Adhesive labels: technology.
We supply adhesive labels, or more correctly "self-adhesive" labels, printed with mixed in-line techniques such as screen printing, offset, flexography, hot lamination, varnishing, hot printing with embossment, in a single step. Furthermore, we produce digitally reel printed labels complete with any type of finishing and ennobling.
Each label may require a concentration of techniques, to be coordinated with precision and safety. We make it possible by acquiring the best equipment available on the market, combining high quality and extreme flexibility. More precisely, our personalised self-adhesive label printing service relies on several aspects that prove to be advantageous for our customers. Let's list them.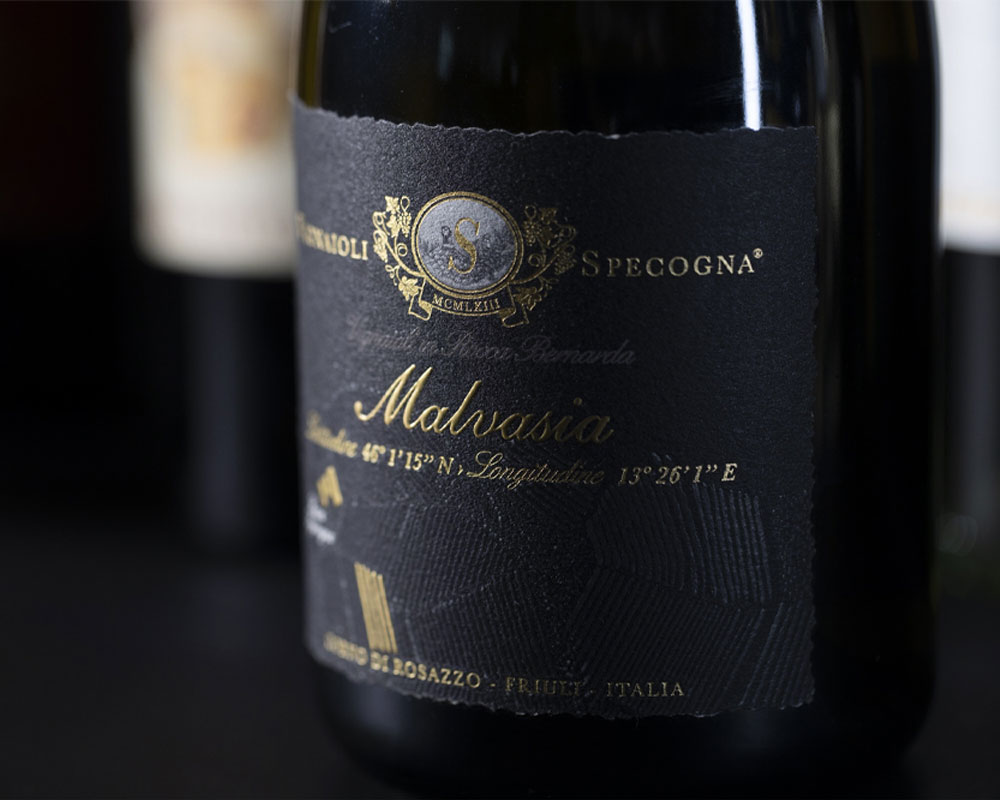 In a single step we can create a label using different printing techniques: screen printing, offset, flexography, all on the same production line and without interruptions.
We print qualitatively excellent adhesive labels, complete with any type of finish and ennobling and we can enter variable data (e.g. progressive numbering). Digital printing is particularly suitable for high quality products in short runs. It can reproduce an offset print ensuring excellent photographic detail.
Our latest generation machines allow us to embellish the adhesive label in a single step by carrying out different processes:
Embossing (or dry printing) in two different forms: embossing (the label is engraved by creating embossments thanks to the use of clichés) and debossing (the label is engraved by forming a recess on the printing material)
Hot and cold lamination: a specific material such as a gold "film" is coupled to the self-adhesive label by passing through a roller. Foils available in many variations of colours and patterns
Textile gold (Cast gold): hot foil with specific thickness that creates a three-dimensional effect
Varnishing: application of glossy, opaque, glitter varnishes with a dual aesthetic-protective function
Braille: thick varnishing to give the image, text or detail a particular three-dimensional effect
Perforation: precise slots and holes of any type and size that allow seeing the contents of the bottle making the label even more special
Overlapping of multiple materials for multi-layer adhesive labels. These labels allow obtaining a three-dimensional effect and capturing the customer's attention, involving it in an interactive way, anticipating the tasting experience.
Traditional: Natural (Embossed, Ribbed, Cotton…), Coated, Metallised, Glossy
FSC (Forest Stewardship Council): paper from forests managed correctly and responsibly
Eco-friendly: recycled or made partially or entirely with alternative fibres to paper
Grease Proof: ideal for all foodstuffs subject to greasy or oily substance leaks, thanks to the stain-proof treatment that provides extra barrier protection
Barrier: guaranteed sealing in humid conditions and in contact with water
Choose Tonutti high print quality. You will be satisfied! And you discover that the price is competitive and tailored to your needs. Fill out the form with the basic information on your project and one of our experts will contact you for a quote.
Adhesive labels ideal for:
those who want high quality labels
those who want labels with specific formats
those who want multilayer labels