PERSONALISED HANGING TAGS
The hanging tag or ribbon can be considered the business card of the object that presents it and must be able to clearly convey the values of the brand, capturing the consumer's attention. It can be made of cardboard or PVC, in the most diverse formats with any type of graphics and ennobling.
We offer a wide range of hanging tags for multiple sectors such as clothing, leather goods, food and beverages, furnishing accessories, but also for accessories for small pets, for watches and precious items as well as for horticulture and fruit and vegetables, with highly creative customised solutions. The deep know-how gained over the years makes Tonutti hanging tags an extremely versatile product that offers our customers several advantages. Let's list them.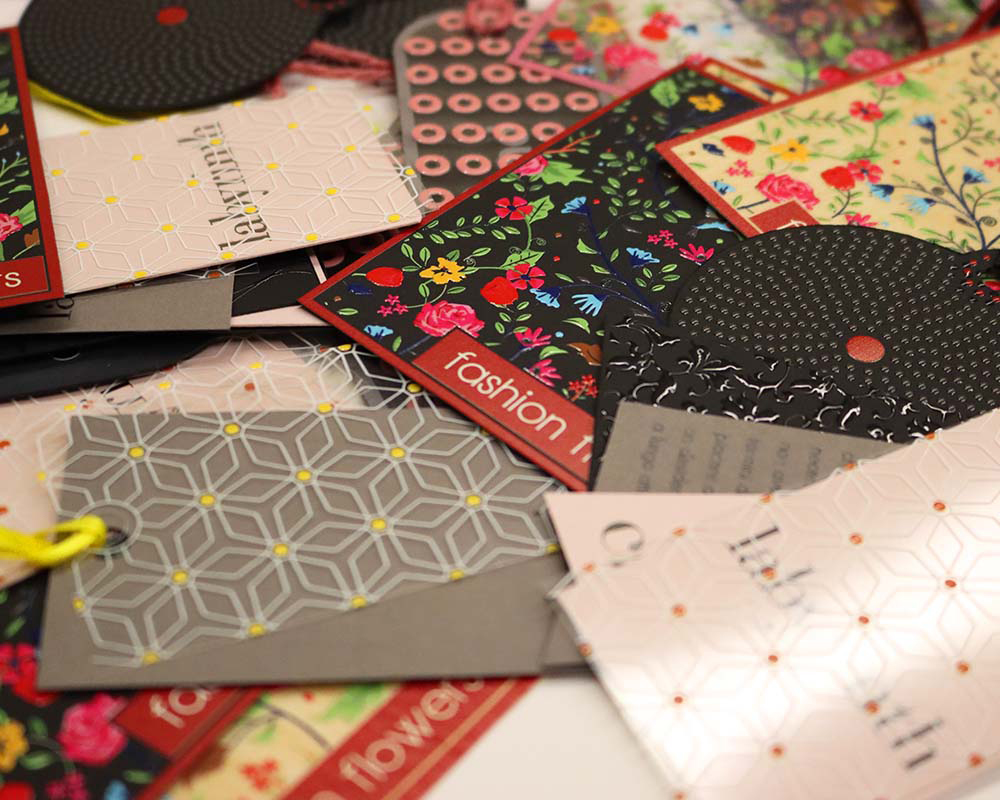 The hanging tags in eco-friendly, natural, glossy or metallised cardboard or in transparent PVC are provided with two or three labels with perforation and seal, ready to be applied on the product. Each label can be printed on both sides and have individual graphics or printed with the same motif on each cardboard.
Finishing with foils varnishes and inks
The projects can be provided directly by the customer or designed by our graphic department, with extremely creative design solutions. Embellished with embossing, special varnishes and inks and hot foil, the hanging tags become a product of absolute value.
Customised size and formats
The hanging tags or ribbons can be made in customised formats and sizes to respond promptly to the needs of each customer.
Ask for the consultancy of one of our technicians
Create eco-friendly labels that respect the environment for your products. To do it better, our technical team is at your disposal. It is easy: fill out the form with the basic information on your project and we will contact you to discuss it together.
Personalised hanging tags ideal for:
Bottles (wine, oil, spirits…)
Foodstuff (preserves, jams, spreads…)
Clothing
Leather goods
Clothing and accessories for small animals
Watches and Jewellery
Designer objects
Furnishing Accessories
Horticulture and fruit and vegetables